But no, authorities wouldn't go that far to stage a war... Well, if you think so consider Operation Northwoods, were all sorts of outrageous plots were considered to gain popular support for war in Cuba, including staging terror attacks, even shooting citizens in the US and blaming it on Cuba:
But no... NATO and the US would never knowingly arm and support terrorists... Well, then consider Operation Gladio, where they did exactly that, in Europe:
This blew my mind when I saw it. I refer to my writing on this website when this story was released. We awarded Nic Robertson the Goebbels award that month for an excellent performance in the art of deception.
Keep in mind that all the people attending this funeral are supporters of Gaddafi! They are carrying green flags and huge numbers have turned out. Regardless this devious reporter spins it so fast that it hypnotizes the viewer.
Of course the super precise Nato bombs have a special bad guy app that ensures it only hits them and no innocent people.
Except maybe a few children and a university...
Somewhat disingeniously you say...
In 1969, Gaddafi and his men are the ones who manage to free the people from this fascist dictatorship! What ensues is a remarkable story, one that has rarely been told and for good reason.
When Gaddafi and his men took over, Gaddafi's parents lived in a tent. He promised he would house every person in Libya before housing his parents. The promise was kept and remarkably they soon managed to give everyone in Libya a home. But not before his father died.
Accompanying the revolution was the Green Book, a complete theory on how a society could be organized in the most fair and effective way.
If you have never heard of this book I think it's time we take a peek inside:
The Green Revolution
The Green Revolution is the Libyan Revolution of 1969. The Green Book is a recipe of sort for a different kind of society. I highly recommend reading it in it's entirety but I am going to post bits of it. I think you will see why I think this issue is pretty important. You can download the book in English here. þessa síðu og dánlódi bókinni
"The instrument of government
- All political systems in the world today are a product of the struggle for power between alternative instruments of government. This struggle may be peaceful or armed, as is evidenced among classes, sects, tribes, parties or individuals. The outcome is always the victory of a particular governing structure – be it that of an individual, group, party or class — and the defeat of the people; the defeat of genuine democracy. Political struggle that results in the victory of a candidate with, for example, 51 per cent of the votes leads to a dictatorial governing body in the guise of a false democracy, since 49 per cent of the electorate is ruled by an instrument of government they did not vote for, but which has been imposed upon them. Such is dictatorship."
So, in the current democratic system there is constant struggle and there's always the risk that the majority will oppress the minority. Fair enough
Parliament
- If parliament is formed from one party as a result of its winning an election, it becomes a parliament of the winning party and not of the people. It represents the party and not the people, and the executive power of the parliament becomes that of the victorious party and not of the people. The same is true of the parliament of proportional representation in which each party holds a number of seats proportional to their success in the popular vote. The members of the parliament represent their respective parties and not the people, and the power established by such a coalition is the power of the combined parties and not that of the people. Under such systems, the people are the victims whose votes are vied for by exploitative competing factions who dupe the people into political circuses that are outwardly noisy and frantic, but inwardly powerless and irrelevant. Alternatively, the people are seduced into standing in long, apathetic, silent queues to cast their ballots in the same way that they throw waste paper into dustbins. This is the traditional democracy prevalent in the whole world, whether it is represented by a one-party, two-party, multiparty or non-party system. Thus it is clear that representation is a fraud…
Philosophers, thinkers, and writers advocated the theory of representative parliaments at a time when peoples were unconsciously herded like sheep by kings, sultans and conquerors. The ultimate aspiration of the people of those times was to have someone to represent them before such rulers. When even this aspiration was rejected, people waged bitter and protracted struggle to attain this goal.
So, representative democracy was better than monarchy and fascism but was still far from perfect.
The Party
- The purpose of forming a party is to create an instrument to rule the people, i.e., to rule over non-members of the party. The party is, fundamentally, based on an arbitrary authoritarian concept — the domination of the members of the party over the rest of the people. The party presupposes that its accession to power is the way to attain its ends, and assumes that its objectives are also those of the people. This is the theory justifying party dictatorship, and is the basis of any dictatorship. No matter how many parties exist, the theory remains valid…
Political parties are corrupt in their nature and represent interest groups or specific members of society. Sounds about right.
Popular Conferences and People's Committees
- Popular Conferences are the only means to achieve popular democracy. Any system of government contrary to this method, the method of Popular Conferences, is undemocratic. All the prevailing systems of government in the world today will remain undemocratic, unless they adopt this method. Popular Conferences are the end of the journey of the masses in quest of democracy.
Popular Conferences and People's Committees are the fruition of the people's struggle for democracy. Popular Conferences and People's Committees are not creations of the imagination; they are the product of thought which has absorbed all human experiments to achieve democracy.
Direct democracy, if put into practice, is indisputably the ideal method of government… The Green Book guides the masses to an unprecedented practical system of direct democracy. No two intelligent people can dispute the fact that direct democracy is the ideal, but until now no practical method for its implementation has been devised. The Third Universal Theory, however, now provides us with a practical approach to direct democracy. The problem of democracy in the world will finally be solved.
Authority of the people has but one face which can only be realised through Popular Conferences and People's Committees. There can be no democracy without Popular Conferences and Committees everywhere…
The General People's Congress is not a gathering of persons or members such as those of parliaments but, rather, a gathering of the Popular Conferences and People's Committees. Thus, the problem of the instrument of government is naturally solved, and all dictatorial instruments disappear. The people become the instrument of government, and the dilemma of democracy in the world is conclusively solved.
The only way to get the power directly to the people is through their direct participation. This can be achieved using direct democracy. Conference halls need to be built were people can get together and make decisions. Interesting.
Who supervises the conduct of society?
- The question arises: who has the right to supervise society, and to point out deviations that may occur from the laws of society? Democratically, no one group can claim this right on behalf of society.
Therefore, society alone supervises itself. It is dictatorial for any individual or group to claim the right of the supervision of the laws of the society, which is, democratically, the responsibility of the society as a whole. This can be arrived at through the democratic instrument of government that results from the organisation of the society itself into Basic Popular Conferences, and through the government of these people through People's Committees and the General People's Congress.
This principle is what seems to seperate Libya from other states. No one group has the right to dominate another! Bravo! Are you paying attention?
What about the freedom of the press? Isn't that limited too?
You could say it is, but only by our western standards. This is the reason:
The press
- An individual has the right to express himself or herself even if he or she behaves irrationally to demonstrate his or her insanity. Corporate bodies too have the right to express their corporate identity. The former represent only themselves and the latter represent those who share their corporate identity.
Since society consists of private individuals and corporate bodies, the expression, for example, by an individual of his or her insanity does not mean that the other members of society are insane. Such expression reflects only in the individual's character. Likewise, corporate expression reflects only the interest or view of those making up the corporate body. For instance, a tobacco company, despite the fact that what it produces is harmful to health, expresses the interests of those who make up the company.
The press is a means of expression for society: it is not a means of expression for private individuals or corporate bodies. Therefore, logically and democratically, it should not belong to either one of them.
The media should not be a mouthpiece for special interest groups but instead a natural right for all citizens. Makes sens right?
The economic basis of the Third Universal Theory
- The ultimate solution lies in abolishing the wage-system, emancipating people from its bondage and reverting to the natural laws which defined relationships before the emergence of classes, forms of governments and man-made laws. These natural rules are the only measures that ought to govern human relations…
If we analyse the factors of economic production from ancient times to the present, we always find that they essentially consist of certain basic production components, i.e., raw materials, means of production, and a producer. The natural rule of equality requires that each of these components receives a share of this production. Because production cannot be achieved without the essential role of each of these components, it has to be equally divided amongst them. The preponderance of one of them contravenes the natural rule of equality and becomes an encroachment upon the others' rights. Thus, each must be awarded an equal share, regardless of the number of components in the process of production. If the components are two, each receives half of the production; if three, then one-third…
The labour force has become a component of the production process. As a result of technical advancement, multitudes of unskilled toilers have been transformed into limited numbers of technicians, engineers and scientists. Consequently, trade unions will subsequently disappear and be replaced by syndicates of engineers and technicians. Scientific advancement is an irreversible gain for humankind.
Thanks to this process, illiteracy will be eliminated and unskilled workers will become a temporary phenomenon destined to gradual disappearance. However, even in this new environment, persons will always remain the basic component in the production process.
We need to abolish the wage system in it's current form.. BLASPHEMY! Just because it is based on domination and extortion?
He who takes part in the production or other fields of the operations that creates revenue, should be entitled to an equal portion of the revenue, compared to the other people involved.
Thanks, my sentiments exactly. Do you have more?
Need
- The freedom of a human being is lacking if his or her needs are controlled by others, for need may lead to the enslavement of one person by another. Furthermore, exploitation is caused by need. Need is an intrinsic problem and conflict is initiated by the control of one's needs by another.
You can use people's needs to exploit them. This creates conflict so it is necessary to prevent people from controlling what other people need.
Not so insane?
Housing
- Housing is an essential need for both the individual and the family and should not be owned by others. Living in another's house, whether paying rent or not, compromises freedom… In a socialist society, no one, including society itself, has the right to control people's needs. No one has the right to acquire a house additional to his or her own dwelling and that of his or her heirs for the purpose of renting it because this additional house is, in fact, a need of someone else.
YES! Thanks! Every person is entitled to his own house! And noone is entitled to having two houses! Because that exceeds your need and can only be used with the intention of profiting from others or controlling them!
I couldn't have put it better. Well I even tried, this is eerily similar to what I wrote in an article in November of last year called "What do we want?"
"I am not saying I know exactly how this can be accomplished, but like others I have my theories. The only thing I'm saying is that if we are going to unite over some demands, than these demands, as radical as they might seem to some, as natural as they could possibly be!
Food and shelter! Is that too much to ask? In a country that is freezing and struggles to deal with a housing capacity that far exceeds our population!
On the contrary, any system, that in this day of remarkable technological advances allows people to starve to death, despite they're being plenty of food around, that is rather thrown away than given to the starving, and that let's people freeze to death in a place that has too many houses. That is absolutely insane."
Sounds pretty similar... Original post in Icelandic
The family
- To the individual, the family is more important than the state. Mankind acknowledges the individual as a human being, and the individual acknowledges the family, which is his cradle, his origin, and his social umbrella. According to the law of nature, the human race is the individual and the family, but not the state.
The individual is the important thing? Not the state? He's got to be kidding..
Woman
- Discrimination against woman by man is a flagrant act of oppression without justification, for woman eats and drinks as man eats and drinks; woman loves and hates as man loves and hates; woman thinks, learns and comprehends as man thinks, learns and comprehends. Woman, like man, needs shelter, clothing, and transportation; woman feels hunger and thirst as man feels hunger and thirst; woman lives and dies as man lives and dies.
But why are there men and women? There must be a natural necessity for the existence of man and woman, rather than man only or woman only…
Deliberate interventions against conception form an alternative to human life. In addition to that, there exists partial deliberate intervention against conception, as well as against breast-feeding. All these are links in a chain of actions in contradiction to natural life, which is tantamount to murder. For a woman to kill herself in order not to conceive, deliver and breast-feed is within the realm of deliberate, artificial interventions, in contradiction with the nature of life epitomized by marriage, conception, breast-feeding, and maternity. They differ only in degree.
To dispense with the natural role of woman in maternity — nurseries replacing mothers — is a start in dispensing with the human society and transforming it into a merely biological society with an artificial way of life. To separate children from their mothers and to cram them into nurseries is a process by which they are transformed into something very close to chicks, for nurseries are similar to poultry farms into which chicks are crammed after they are hatched.
Nothing else would be as appropriate and suitable to the human being and his dignity as natural motherhood. Children should be raised by their mothers in a family where the true principles of motherhood, fatherhood and comradeship of brothers and sisters prevail, and not in an institution resembling a poultry farm… As for children who have neither family nor shelter, society is their guardian, and only for them, should society establish nurseries and related institutions. It is better for them to be taken care of by society rather than by individuals who are not their parents.
If a test were carried out to discover whether the natural propensity of the child is towards its mother or the nursery. the child would opt for the mother and not the nursery…
There must be a world revolution which puts an end to all materialistic conditions hindering women from performing their natural role in life, and so drives them to carry out men's duties in order to attain equal rights. Such revolution will inevitably take place, particularly in industrial societies, as a response to the instinct of survival, even without any instigator of revolution such as the Green Book.
All societies today look upon women as little more than commodities. The East regards her as a commodity to be bought and sold, while the West does not recognise her femininity…
Freedom means that every human being gets proper education which qualifies him or her for the work which suits him or her. Dictatorship means that human beings are taught that which is not suitable for them, and are forced to do unsuitable work. Work which is appropriate to men is not necessarily appropriate to women, and knowledge that is proper for children does not necessarily suit adults.
There is no difference in human rights between man and woman, the child and the adult, but there is no absolute identity between them as regards their duties.
The oppression of women is completely unjustified. Western society oppresses women by denying them their natural role as mothers. They should not have to work so much that they don't have time to care for their kids!
Even if we were to disagree with this, who are we to say it's wrong? Even if you think that the fact that know both parents have to work as hard as one parent did earlier to provide the same for the family is just a necessary part of equality then fine. But that does not justify imposing opinions on people! Particularly not if you do it with bombs.
At any rate, it is acknowledged that women have much more respect in Libya than the muslim stereotype would have you believe.
(From wikipedia)
Since the early 1960s, Libyan women have had the right to vote and to participate in political life. They could also own and dispose of property independently of their husbands, but all of these rights were exercised by only a few women before the 1969 revolution.
Since then, the government has encouraged women to participate in elections and national political institutions, but in 1987 only one woman had advanced as far as the national cabinet, as an assistant secretary for information and culture.[1] However, from 1989-1994 Fatima Abd al-Hafiz Mukhtar served as Minister of Education. From 1992-1994 Bukhanra Salem Houda served as Minister of Youth and Sports; Salma Ahmed Rashed from 1992-1994 served as Assistant Secretary of Women, then as Secretary in the General Secretariat of the General Peoples' Congress for Women's Affairs from 1994–1995, and was eventually the Ambassador to the League of Arab Nations in 1996. Others serving as Secretary in the General Secretariat of the General Peoples' Congress for Women's Affairs included from 1995-1998 Thuriya Ramadan Abu Tabrika, Nura Han Ramadan Abu Sefrian from 1998–2000, Dr. Shalma Chabone Abduljabbar, and Amal Nuri Abdullah al-Safar from 2006-2009. Women serving as Secretary in the General Secretariat of the General Peoples' Congress for Social Affairs have included Dr. Shalma Chabone Abduljabbar and Abd-al-Alim al-Shalwi, while from 1995-2000 Fawziya Bashir al-Shalababi served as Secretary for Information, Culture and Mass Mobilization. Dr. Huda Fathi Ben Amer began serving as the Secretary of People's Committees Affairs in 2009, and also served as President of the Transitional Arab Parliament.[3] Dr. Salma Shabaan Abdel Jabar began serving as Secretary of Woman Affairs in 2009.[4]
Let's continue shall we:
Education
– Education, or learning, is not necessarily that routine curriculum and those classified subjects in textbooks which youths are forced to learn during specified hours while sitting in rows of desks. This type of education now prevailing all over the world is directed against human freedom. State-controlled education, which governments boast of whenever they are able to force it on their youths, is a method of suppressing freedom. It is a compulsory obliteration of a human being's talent, as well as a coercive directing of a human being's choices. It is an act of dictatorship destructive of freedom because it deprives people of their free choice, creativity and brilliance. To force a human being to learn according to a set curriculum is a dictatorial act. To impose certain subjects upon people is also a dictatorial act…
This does not mean that schools are to be closed and that people should turn their backs on education, as it may seem to superficial readers. On the contrary, it means that society should provide all types of education, giving people the chance to choose freely any subjects they wish to learn.
Societies which ban or monopolize knowledge are reactionary societies which are biased towards ignorance and are hostile to freedom. Societies which prohibit the teaching of religion are reactionary societies, biased towards ignorance and hostile to freedom. Societies which monopolize religious education are reactionary societies, biased towards ignorance and hostile to freedom. Equally so are the societies which distort the religions, civilizations and behaviour of others in the process of teaching those subjects. Societies which consider materialistic knowledge taboo are likewise reactionary societies, biased towards ignorance and hostile to freedom.
Knowledge is a natural right of every human being of which no one has the right to deprive him or her under any pretext, except in a case where a person does something which deprives him or her of that right.
Ignorance will come to an end when everything is presented as it actually is and when knowledge about everything is available to each person in the manner that suits him or her.
The current educational system is an obstacle to the natural freedom and thirst for knowledge that humans possess. A better system needs to be designed.
Are those ideas beginning to sound familiar?
Well if they are it's because they echo almost every progressive sentiment for social evolution. These are the kind of thoughts that have been emerging in the circles of all revolutionaries in the western world!
What have we been talking about here in Iceland? Being able to produce our own food sustainably! Democratic reform! Direct democracy! National votes! To have the basic necessities of life guaranteed by law!
Those of us who have been studying this for a while have long since seen the problems of an easily controlled two party and multi party systems. The flaws of the education system, financial system and the labour system.
Well, I know what you are thinking. Who is to say that this book is being applied in Libya right now? We've all heard of glorified communist states who had similar claims about being for and by the people. But that is no prove that this version of socialism is not working in this particular case. In fact the evidence would be showing it to be working extremely well! Do you think perhaps there is correlation between the initiatives suggested in this book and the widely recognized improved standard of living for Libyans?
At least if seen from a human perspective, from the perspective of big corporations it's been dreadful and tyrannical.
Most likely you had never even hear about this to begin with, so the question is, are you just going to assume that it can't be in use cause it sounds to good to be true?
Did he just magically write all this accurate philosophical and social analysis with such detailed steps for propaganda purposes? Why would we assume that this book that is widely regarded as the bible of Libyan society is not being implemented?
You may think it's pure rhetoric, but you have nothing to base that on. Isn't it possible that this is the reason that he is so popular? And that you have in fact been lied to? Repeatedly and grossly?
Is it not possible that this book explains why the Libyan people haven't been exploited and screwed over the same way as their neighbours?
In the first video I posted in this article you can see actual footage from inside these conference halls. Were they just faked to maintain this illusion?
And you say you don't want to listen to "conspiracy theories"?
Gaddafi's "reign of terror"
Gaddafi and his movement was immediately perceieved as a threat to sensitive business interess of Isreal, the US, Britain, France and other nations. So right from the start a campagin of villification begun. He was portrayed as a supporter of terrorist and as a madman.
These powers made many attempts at his life. Sometimes they almost worked. See here.
At the same time they've done everything in their power to get control back to the oligarchs. Now, it seems they might finally achieve their long standing goal.
But Gaddafi and the Libyan people were extremely vigilant and had no tolerance for people. They had their experience with colonial powers and knew that they didn't fuck around. They implemented massive domestic food projects and housing projects to ensure that the nation could be self sustainable and independent.
Seen from this perspective, the stories about bad treatment of the Libyan dissenters is simply a punishment for trying to murder people and instigate a staged coup to put a puppet of these business interest and someonw who supports the US and Israeli agenda in the neighbourhood.
There were public executions, the logic being that they wanted people to think twice before trying something like that. To say that these were on Gaddafi's order is not more accurate than it would be to say that the President of the United States is behind every execution in the US.
Like I said, it may not be something I agree with, but I live in a country where extreme violence is quite rare, and I have never been in that situation.
Obviously when someone tries to attack you and kill you, you have a right to defend yourself.
The people of Libya overwhelmingly supported the revolution because it gave them a share of the oil wealth of the country and had housed and fed Libyans! They did not want the West to gain control cause they had lived that and knew that they were not working in the interest of the people!
If you need further proof of that just look at the neighbouring countries!
And if you think that they're commitment to bringing wealth to the people and to avoid exploitation by foreign interest didn't bring them hazzle you don't know how these people have plundering the world's resources for the last hundreds of years! Keep in mind that Libya didn't let any foreign businesses enter the country until 2003. In this increasingly globalist capitalist economy, an analogy would be the family owned coffee house trying to survive a takeover by Starbucks. Those bastards don't quit, you will be assimilated.
Here is an example of a now commonly used brainwashing method, when Time magazine posted a picture of Gaddafi on it's cover. Only it was illustrated and the lines on his face spell out KILL and SEX to influence your subconscious level of thinking:
From the beginning the mouthpieces of large oil companies and the former colonial powers painted Gaddafi as a supporter of terrorists. This was based also on his support for elements within Palestine fighting the Israeli occupation.
Probably the most controversial thing you can accuse Libya of is their support for Idi Amin's forces.
H
owever, they have apologized for it and stated many times that it was during a complicated time in which they saw any enemy of the US and Israel as an ally, and they regretted it having found out what he was doing in his country.
But if that support is reason enough for an invasion, than how many times should we have invaded the US by now? That have supported tyrants and terrorists in numerous other countries?
This is the kind of double standard we see repeatedly when it comes to military aggression by the US and the west.
In 1973 things really started to happen as Gaddafi announced the birth of the "Jamahariya" "The state of the masses" leaving all power in the hands of the Libyan people through direct democracy.
Even Wikipedia acknowledges this:
The "remaking of Libyan society" contained in Gaddafi's ideological visions began to be put into practice formally beginning in 1973 with a so-called cultural or popular revolution.
This "revolution" was designed to combat bureaucratic inefficiency, lack of public interest and participation in the subnational governmental system, and problems of national political coordination. In an attempt to instill revolutionary fervor into his compatriots and to involve large numbers of them in political affairs, Gaddafi urged them to challenge traditional authority and to take over and run government organs themselves. The instrument for doing this was the "people's committee." Within a few months, such committees were found all across Libya. They were functionally and geographically based and eventually became responsible for local and regional administration.
People's committees were established in such widely divergent organizations as universities, private business firms, government bureaucracies, and the broadcast media. Geographically based committees were formed at the governorate, municipal, and zone (lowest) levels. Seats on the people's committees at the zone level were filled by direct popular election; members so elected could then be selected for service at higher levels. By mid-1973 estimates of the number of people's committees ranged above 2,000.
In the scope of their administrative and regulatory tasks and the method of their members' selection, the people's committees purportedly embodied the concept of direct democracy that Gaddafi propounded in the first volume of The Green Book, which appeared in 1976. The same concept lay behind proposals to create a new political structure composed of "people's congresses." The centerpiece of the new system was the General People's Congress (GPC), a national representative body intended to replace the RCC.
Here we can also see an interesting chapter on the economic reforms that happened after this happened:
Economic reforms:
Remaking of the economy was parallel with the attempt to remold political and social institutions. Until the late 1970s, Libya's economy was mixed, with a large role for private enterprise except in the fields of oil production and distribution, banking, and insurance.
But according to volume two of Gaddafi's Green Book, which appeared in 1978, private retail trade, rent, and wages were forms of "exploitation" that should be abolished. Instead, workers' self-management committees and profit participation partnerships were to function in public and private enterprises. A property law was passed that forbade ownership of more than one private dwelling, and Libyan workers took control of a large number of companies, turning them into state-run enterprises. Retail and wholesale trading operations were replaced by state-owned "people's supermarkets", where Libyans in theory could purchase whatever they needed at low prices. By 1981 the state had also restricted access to individual bank accounts to draw upon privately held funds for government projects.
These economic changes spread Libya's wealth much more broadly than it had been. The Gini index is a measure of economic dis-equity. In the mid 2000s Wikipedia showed a Gini of 36 for Libya. The Gini for the USA in 2009 was 40.8 (substantially more dis-equitable). Gaddafi's efforts also improved the average health of Libyans. In 2009 the CIA's World Factbook showed the average life expectancy of a Libyan to be 77 years (only one year less than that of an American citizen).
However, the measures created resentment and opposition among the newly dispossessed. The latter joined those already alienated, some of whom had begun to leave the country. By 1982 perhaps 50,000 to 100,000 Libyans had gone abroad; because many of the emigrants were among the enterprising and better educated Libyans, they represented a significant loss of managerial and technical expertise.
So.... the wealth was spread a lot more evenly... well we can't have that now can we! So what we see now is these disgruntled people that made up the elite of Libya coming back to claim what they think is still theirs. And we are helping them accomplish that. After all taking their undeserved and unecessary extravagant wealth was a crime we can not let go unpunished!
It appears as though these are mostly the people we see and hear about, talking of Gaddafi's mistreatment and his "reign of terror"
The Lockerbie incident
In 1986, Ronald Reagan bombed Libya and killed Gaddafi's daughter, justified by the accusation that they were involved in a terror attack on a German disco.
A german documentary later concluded that it had been the work of the Israeli Secret Service, Mossad. Source
It was then two years later, in 1988 that a plane was blown up over Lockerbie in Scotland where 143 people died. Ever since Libya has been charged with being responsible, despite there being absolutely no evidence that connects them with it.
The Lockerbie incident is a little like Icesave has been for Iceland. This big international dispute that is based on absoulte bullshit but is used as an excuse to exert control over the country.
After 15 years of international disputes and economic sanctions over these alleged acts of Libya, the US invaded Iraq. Seeing this made Libyans realize that they meant serious business and that they weren't going to listen to reason.
Saying they didn't have anything to do with it wasn't going to cut it anymore so they decided to do anything they could to make peace with these nations. They did not want war with the West, for obvious reasons.
They were willing to give into all the demands they had, ridicilous as they may have thought they were. One of these conditions was to "declare responsibility" for the attacks of Lockerbie although they stated firmly it was not an admission of guilt or participation in the preparation of the attack.
(af wiki: Until 2003 Libya had never formally admitted carrying out the 1988 Lockerbie bombing. On 16 August 2003 Libya formally admitted responsibility (but did not admit guilt) for Pan Am Flight 103 in a letter presented to the president of the United Nations Security Council)
It would only be a year until the Secretary General of Libya openly declared that this arrangement was made exclusively with the aim of "buying peace" and reiterated that Libya had not had any part in this attack.
Here is a mainstream news story showing that witnesses were bribed and evidence was fabricated in the Lockerbie trial.
In 2009 a dutch documentary was released. It is in dutch but if you just watch the beginning there are some interviews in English and the conclusion of the film makers was that blaming Libya for this attack was just preposterous.
Strange things start to happen following these compromises. They opened up to foreign business and Gaddafi and his family make business deals with politicians that they had previously been in conflict with.
All of the sudden a lot of these people start to "loosen up: towards Gaddafi. The rhetoric changes. He is no longer a tyrant, but simply an eccentric man.
Sarkozy says Gaddafi is not considered a dictator by his neighbours
Berlusconi kissing Gaddafi's hand
Tony Blair doing business with Gaddafi
Even the senile old cook, John McCain had good things to say about Libya! (He is now back to singing from the dictator songsheet obviously, but just listen to this clip)
Despite this relatively brief period of friendly exchanges it was clear that there were other plans in store for Gaddafi. Just look at Obama, it's almost as if he knows:
They would simply smile and welcome him for a few years before turning around and stabbing him in the back.
In doing this Gaddafi was actually hurting his image more than he could have imagined. Cause most of these people are so despised in their home countries that associating with them is a bad PR move. It has given people the wrong impression that he is one of the brutal dictators that has been supported by the West. After all, we've seen him in pictures, rubbing shoulders with those evil war mongers. So right! We should let those war mongers start a war with him!
Or wait... something's not right here....
This has done a lot to hurt his image in the circle of people that would under normal circumstances be out there to defend him. Imagine if this was happening in Venezuela. A lot of people would know immediately that something was up. People don't pay attention to detail. But they remember the pictures: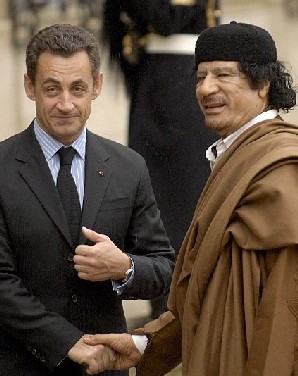 I know that this was the image I had of him before all this started to happen and I began researching what was actually going on.
For those of you who have supported Hugo Chavez and his revolution in Venezuela, you might wonder why Chavez has aligned with Gaddafi and considers him a fellow revolutionary. Of course the media will use that to demonize Chavez, but not the other way around.
Another important figure that has hailed Gaddafi as one of the greatest freedom fighters of our times is Nelson Mandela.
It can happen, and it frequently does and will continue to happen unless we educate ourselves about how this is accomplished and expose it!
Do you understand now why thousands of Libyans placed themselves at Gaddafis palace to prevent him from being bombed by NATO?
Uhh... to uhh... help you.....
Do you now understand why I spent so much time working on this article without getting any money for it? Twice I stayed up for 24 hours and just continued writing and working on it.
Have we in fact reached that stage again were standing up for peace is dangerous!?
Are we really at the stage were protesting a war is considered crazy?! And those who do are dismissed as conspiracy theorists?
Please! SEE! You have been blinded if you can not see this! WAR AND PEACE ARE OPPOSITES!
Cause the most disturbing thing is that most people claim to be against war. But when it comes to it, everybody either shuts up or directly supports it! And most people don't even investigate it from both sides!
If you are against war than spread this information! Expose the lies before it gets out of hand and spreads to Iran and Syria and even more countries!
The truth is on our side! Eventually it will be exposed, just like it has been on Iraq.
The propaganda machines just work a lot faster. They know in advance what the plan is and can prepare!
Us freelance journalists have a hard time to keep up, cause we can only react. I've been investigating world events for the last 6 years and I never suspected that Libya was about to become such an important factor. So to counter it I had to start researching it when the propaganda had already started.
That is the problem. They control the media but they don't control reality. We will get them eventually.
The media is not being neutral! They are not even pretending to cover both sides! Try listening to or reading any news story. It's not that they are taking a side, they pretend that the other side doesn't even exist!
Everything I've been covering here has been largely ignored by the mainstream press! Every reference to Gaddafi assumes it as a given that he is an evil dictator!
Every mention of the rebels portrays them as freedom fighters! The media is acting like an absolutely blatant cheerleader for this war.
It is almost never acknowledged that the reason Gaddafi says he won't step down is because he has no power! How can he step down if it has no power?? He just laughs at it because it is so ridicilous! Why do they always just report that he "refuses to step down"?
It was just barely reported that he offered to symbolically "step down" just as long as he wouldn't be tried in a court who knew would be corrupt! The rebels rejected the offer, saying that would be offensive to his victims.
Sure, a peaceful resolution to this conflict would be insulting, we demand blood!
Every word you hear out of Gaddafi is not directly from him, but quoted out of context by the media.
You are not hearing his side, but the other sides version of his side. If you want to hear his side it is very easy! Just fucking listen to what he has to say!
Consider these videos the last plea of a man on his knees. You have a gun pointed on his head and he is asking for your mercy (actually Gaddafi is more proud than that, but you catch my drift). Are you going to pull the trigger before he gets to say what he wants or will you at least let him speak?
Consider why, it had never occurred to you before to listen to the other side of this story directly from the source. My mother told me never to judge anyone before you hear their side. It is the best advice she ever gave me.
Consider how naive it was of you to think you could just trust that the media was telling you the truth. Even knowing they're consistant history of manipulating facts in favor of wars and the establishment.
You don't want war! So stop it! Plant seeds in any way you can. Do not be afraid. Don't be afraid of being judged by others. It is there mistake not yours. Yours would be to succumb to this societal pressure and abandon your conscience. Allocate your empathy! Feel for these people who are being deeply wronged and do something about it.
Having said that I just want to affirm that I obviously in no way condone or advocate violent action for the cause of Libya. We do not need that. We just need people to wake up, and they will! This information is too powerful and they can only overlook it for some time. Plant seeds of information everywhere you can! Be courageous enough to tell people they are wrong even if it is more comfortable that everybody agrees!
I may not be right about everything I wrote in this article and I'm sure that some nitpickers can pick out some minor flaws, that is not the point. Last time I checked there is freedom of speech and people are entitled to be wrong. All I can promise is that I am giving my honest take on this situation and all the information that I found researching it.