28. júní, 2012
Let's face it. We are losing the PR war. You are still considered weird by most for believing that 9/11 was an inside job, or that the federal reserve banking cartel is just a clever privately run pyramid scheme.
If you even try to go to some areas you will get vehemently opposed by vigilantes of supposed justice. Try convincing some people that global warming is just another scare tactic or that there are legitimate concerns as to the safety and necessity of many vaccines.
Just recently, Bill Gates said that people who opposed vaccines were killers, and people upvoted him to the front page of reddit.com for it. This is how many people feel. They are angry at us.
They feel like we are stupid. They think we are wasting our time and theirs. They think we are fanatics and see us as unpredictable and potentially even dangerous.
They don't know that we know what they know and more. They can't even begin to fathom that. How could we?
How can we pretend to know more than mom and dad, than the priest, the teacher, my uncle Bob, the guy on the news and.. well, just the major bulk of mainstream society? How arrogant of us! And we think they are brainwashed?
Yes, this may be a result of years of propaganda designed to have such effect, but regardless of that it is working and our methods to counter it are not.
But why?
Let me tell you what I think. It isn't working because most of us, frankly are still too scared. We are afraid to be honest and open. We are afraid to show our emotions. Most of all, we are afraid that it won't do any good. That our effort is worth so little in the face of these huge problems.
Some stay completely in the conspiracy closet. They simply can't bear the thought of the social ramifications that will follow if they come out.
Some are willing to step out a little bit, and engage in conversations on these topics. Many get scared when people react with ridicule and go back in, others make compromises and never go all the way with explaining what they truly believe.
The problem is that so many people are mistaken on these subjects. They simply have not considered optimal strategy when it comes to fighting the propaganda war. Which we are, whether we like it or not. We did not seek it, but we will fight it, and we will win it. (To quote George
W. Bush)
We've been bullied into passivity without even realizing it. If we are afraid to be rude, how are we going to explain to people that the way we actually and truly feel, is that it is absolutely ludicrous that they don't see what we see!
That they are demonstrating an unbelievable lack of judgement and reasoning if they don't see that 9/11 was an inside job.
We censor ourselves constantly, we try to meet people in the middle, try to get them just a little bit interested in the hopes that we "spark an interest" and they will investigate more themselves. We're afraid to be pushy. We never go all the way because we're afraid that it would be too far, and we would lose people.
This is how we instinctively feel is the best approach when it comes to these issues. But as is the case often, our instincts are simply wrong. We have been manipulated to feel this way, as we have been conditioned from birth not to cause trouble.
Would you describe that statement as accurate? Well, obviously our parents don't want us to cause trouble, so this is fairly natural. But whether or not it is deliberate it serves the effect that we are afraid to trouble people, even if they are vicious criminals like many politicians and bankers indeed are.
Have you ever wondered how these people go about their daily lives without getting yelled at and have things thrown at them? These vicious soulless greedy assholes that lie and than send people to die and kill people just so they can make more money?
People still feel that it's "rude" to bother them. Such is the slavetality of the population.
And even if what is at stake is stopping a war from happening!
In fact what you find is that p
eople appreciate honesty. They remember people who speak from the heart, even it is far from what they are used to hearing. They can tell if you truly have reason
to believe what you are saying and it is far more convincing when we reveal the depths of our convictions.
Some will pretend they aren't sure, just so that people will think they are less crazy. This is purely detrimental, how can we expect people to believe us if they think we aren't even sure ourselves?
If you play any strategy game, you will find that being passive is rarely the best tactic. The same applies in this PR war. It is essentially a numbers game. The elite knows this and they utilize it constantly.
Simplify and multiply was Goebbels main strategy and it is still the most prominent form of mind control there is.
The reason is that it is the most effective form of mind control there is.
So what is the best tactic?
Now, please understand this. All is fair in love. We are doing this for the sake of love. Love for all the oppressed people, the poor people, war people, all people. We are simply using the best tactics to regain control over the hivemind that has been hijacked.
A big part of my research has had to do with propaganda. Both because I am interested in the theories behind it and how it is used against us, and also because I'm interested in how it can be used for good.
I've done experiments on reddit.com and analyzed patterns to find which kind of entries are more likely to get attention and upvotes then others.
Reddit represents a window into the public consciousness unlike any other and I suggest that if any conspiracy researcher out there is not throwing his weight around there, he should start doing so now.
However, it is increasingly censored. For example, none of my submissions to r/politics go to the new cue anymore. No administrator has ever indicated why I seem to have lost my posting privileges there, but what can you do?
Since I started these experiments I've amassed 15259 in link karma, and many of my submissons have reached nr.1 in their respective sub-categories
I have reached three main conclusions:
Nr. 1 -
If you have something to say, caption it in an image or make a rage comic.There are many tools available online to do this easily for free. Some of you have programs on your computer as well.
I won't point out the one I use the most at the risk of being accused of advertising.
(see, these are things we must also think about)
Nr.2 - Arrogance works. Putting a swear word in there does not hurt.
Nr.3 - Humor works. This should be obvious but seems to have alluded many conspiracy researchers, who believe the topics at hand to be so serious or so disturbing that joking about it would be inappropriate. While this may well be true, it is however detrimental to our strategy to think this way. We need humor on our side or we will never win.
This should overwrite any moral concerns regarding joking about sad subjects, offending a few people and being accused of "reducing something to a meme"
Many think arrogance drives people away, when in fact well directed arrogance resonates well with people. They think swearing drives people away when in fact, one redditor noticed that an unusually high number of front page posts contained the word FUCK in one form or another, well fuck. That is something. And why? Because everybody fucking swears. If you don't believe me just go to the pub when the next football match is on.
It's just some bible nuts and sheltered suburban housewifes that worry about mundane shit like that. Oh I´m sorry? Did I say shit? Fuck, I didn't mean to do that...
But seriously. They are just fucking words. And like other words they serve a purpose for expression. Being sensitive about them is nothing but the result of generations of religious bullying.
Some of the most popular heroes on reddit include George Carlin, Louis CK, Joe Rogan and Bill Hicks. Do these guys always "watch their language"? Are they careful not to offend people?
No! They speak from their hearts and they are funny. They ridicule those who disagree and shower them with abuse. Consider this bit that is repeatedly voted to the front page, both in text form and the video:
Listen and pay attention. He sounds like a raging conspiracy theorist, yet he somehow manages to get everyone in the crowd to get the message and applaud! Why?
Because he is pouring his old heart out and he isn't holding back to be careful not to bother anyone! And he swears a lot too! There is no joke. It's just plain truth.
This is the kind of stuff we need! People who speak the fuck up!
Another example can be seen here in this epic conspiracy rant by Bill Hicks on the JFK assassination:
Listen to this guy! What do you think is more likely to convince people, this bit from Bill Hicks or some authoritative sounding lecture? Not that I want to discourage people from holding boring lectures, everything helps, I'm only saying there are ways to use our time more effectively.
There is also a psychological factor that is so important. We are emotional beings, and just as we don't like to trouble others, we don't like to be troubled.
This fear is so deeply rooted in our psyche that it is the primary reason why people don't investigate conspiracy theories properly enough to understand them. It is scary, they simply want to avoid the territory.
We NEED to start fighting back. Normal people feel that it is fine to joke about conspiratards and make fun of us annoying knowitalls. They post pictures like this and mistakingly feel that A) It is an argument and B) They are funny: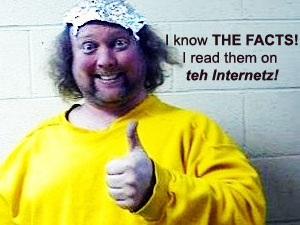 I literally had some brainless moron post the second picture as response to an incredibly detailed and accurate article I wrote about the events in Syria. I am not making this up. People actually do this, all the fucking time, thinking they've managed to render any argument you make invalid.
It's a pretty simple. If the reason people don't look into conspiracy theories or talk about them is because their scared of being made fun of, we have to make fun of them for being brainwashed and gullible mass produced humans. We have to at least try to level the playing field.
In the end maybe people will notice that they will be made fun of either way. Perhaps then they will start to make decision based on actual facts and logical reasoning instead of this subliminal conditioning.
And what about Joe Rogan? He uses the f word (fuck) more than most and he is one of the few conspiratards who people will listen to:
Am I starting to make sense to you? Right! So stop censoring yourself. Stop holding back and let's take this planet back. Stop thinking you need to be polite. Fuck these assholes that want to make fun of you and bully you into passively accepting all the bullshit we see every fucking day!
Why the fuck do you want to be polite to people who make fun of you and look down on you! Seriously, fuck them!
But then remember! We love those assholes, we feel really sorry for them and we desperately want to wake them up so we can drastically improve the lives of everyone.
And also! Never let their stupid jokes bother you or upset you. Defuse it with humor, turn their insults against them. Mirror their arrogance and bury them with logic, but don't be obnoxious or personal. (I was saying that the notion was incredibly stupid, not that you were incredibly stupid, is a good save, f.e.)
The truth is on our side, so you have the upper hand by default. Unless of course your spouting some of the trojan horse, disinfo theories that very few actually believe but are promoted by the mainstream to give the impression that we are crazy.
That is a trap that we can all be susceptible to at some point, as it is one of the most brilliant propaganda trick ever. An example. Paul McCartney is not fucking dead. I actually dug quite deep into that at one point cause I love music and I love the Beatles, and obviously, I love conspiracy theories. Seemed like a good mix.
In a documentary I watched, which was narrated with an alleged death bed recording (an amateurish imitation) of George Harrison revealing the secret story of the Beatles. He is supposed to have died in a car crash in 1966, yet "George" suggests that John Lennon wrote Yesterday (released in 1965) about the tragic death of Paul McCartney. I had to rewind and play that back I was so amazed that whoever did this couldn't even bother to know his shit.
Another, more plausible explanation is that clues or dead giveaways like that are left in intentionally. That this is a trap meant to trick us into losing our credibility. And even if very few of us actually believe in it, the mainstream categorizes it with all the other theories.
And besides, even if it was true, why would we want to focus on something like that instead exposing the hundred more urgent conspiracies still not officially understood?
Which is also something to think about, we don't need to win every battle, just the war. So it makes sense to try to pick our battles and focus more heavily on the easier ones. We are doing well when it comes to 9/11, JFK, and perhaps especially the monetary system. Syria and Lybia are not very easy, but they are proportionally more urgent. If we can expose the deception behind those military propaganda campaigns we decrease support for action. If we do that the war planners have to adapt and change strategy. They won't start a war if it is too unpopular because they can't. That is why every little thing you do matters.
The next argument I want to point out was made by Terence McKenna in this brilliant video when asked, how do we fight back?
By making art.
Brilliant answer. So. If you are making art, any kind of art, use it! Don't just be another well functioning cog in this great machinery of madness. If you make music, write lyrics that wake people up, make them think. If you make paintings, try to make a point.
I'm not saying all your stuff should be "political", just allocate a portion of your work to make people question things. "Political" is another term that is used to shut people off and stop them from thinking. I can't tell you how many times I've heard people say "can we please not talk about politics now", whatever the subject is, as long as it's mildly critical and controversial.
This is how we police each other and censor each other.
But if you don't feel like "art" is your thing, don't worry. Memes are close enough:
Conspiratards, let´s make memes!
Almost every time I post a meme to r/conspiracy, someone receives showers of praises and upvotes for stating that r/conspiracy should not be reduced to memes.
Why not use every effective way of communicating we have? Do we really have much to lose?
Why memes?
Memes are simple
Memes are clever
Memes are popular
Memes are humorous
Memes are effective
Any other argument is a mute point. I actually think that most of the people singing the "oh let's not stoop to the memes' are actually CIA troll accounts, especially because noone ever provides reasonable arguments for it. It's just a stupid mantra and it's used to manipulate us into not using the most powerful propaganda tool at our disposal.
For one of my first experiments I posted an article on r/trees, a friendly weed smoking community. It was about how marijuana prohibition benefitted big business and the first point was that marijuana was dangerous, but to oil companies, pharmaceutical companies and such.
The article was from a site called illuminati news and the conspiracy vibe from the site is likely to have put many people off and the article got around 3-4 points.
I then proceeded to post just the first sentence of that detailed article, but this time I posted it on an image of the marijuana leaf. Needless to say this proved a 100 times more effective, getting to the coveted 420 points and then hovered around there.
This first experiment suggested that my theory was indeed correct, and it's not hard to see why.
I quickly started trying this out for other occasions. For example, when I was posting on facebook about the deception campaign in Syria, to a occupy group, I got this creepy message from facebook:
I immediately took a screenshot and posted it on reddit, getting what was then a record amount of points in r/conspiracy (1100 points - Seriously facebook?)
As some tried to claim I had faked this I also posted a video of me filming the computer from where the message came:
The video submission also went to the top of r/conspiracy and got some attention on r/occupywallstreet but was generally ignored on other subreddits.
I could post countless submissions from post I am proud of, but those who are interested can just check out my history as humanbrain on reddit. But keep in mind that sometimes I'm experimenting with how people respond to different levels of aggression, arrogance and how they respond to certain topics. And in some cases I'm probably just losing it.
Here are just a few of my favourites:
Since everything else has failed (730 points)
-
Link
Contextually Unaware Alien Visitor (1336 points
-
Link
)
This one is not my highest scoring, but I feel has a lot of potential, Super Serious Guy (182 points, still more than enough to make nr.1 on r/conspiracy -
Link
)
This one was a bit different but I used it to try to get some attention for an article I wrote that i felt warranted it
There is no economic crisis, the economy is the crisis
- 218 points in r/worldpolitics -
Link
If you check out some more of my submission you will see that this technique is ridicilously effective. I've been using pre-existing memes as well as creating my own but the simple point is obvious. An image with text is 100 times more effective than for example a self post stating generally the same thing.
If this was a computer game and reddit points mattered at all, this would be the cheat.
So go, do your own! Be creative and post everywhere you can. You'll be amazed at the response you'll get (I think that sentence made me sound like a brochure..)
Sure we have made progress. A lot actually. But we are still losing! While the definition of what constitutes as plausible has changed, the defnition of what the term conspiracy theory means is still way off.
And remember, if we each manage to convince just one person that conspiracy theorists aren't actually crazy, we've doubled our numbers.
We should never shy away from saying you're a conspiracy theorists or make apologies for it. I often hear people go "I'm no conspiracy theorist, but I think... (some random point about 9/11 for example) and then proceed with caution. This has discount for sale got to stop, even if you think you are shielding yourself from abuse you are directing it towards me and everyone else who will identify with it proudly. Also when people say "it's not a conspiracy theory, it's a fact" it is not good either, cause it implies that nothing that is a conspiracy theory can be based on facts.
Yes, there was a conspiracy on 9/11 and yes, I have theories regarding the nature, perpetrators and purpose of it. They are basid on evidence, facts and logic. There is nothing in the combination of the words conspiracy and theory that discredits anything.
So, to summarize: