10. janúar, 2013
World domination has been the wet dream of many egomaniacal douchebag since the dawn of man. Today there is a small group of people who control the worlds global banking system with the exception of a few "unruly" countries. These people have no empathy towards the general population of the planet. Repeat that in your head. No empathy. NONE.
They are satanists. A common misunderstanding is that because I claim someone is a satanist is that I am some bible-nut. This is far from the case. I am not against their satanism because of christianity, I think the bible is nuts. I am against satanism because it does not even pretend to be based on noble doctrines. It glorifies the ego, indulgence and selfishness to no limits. They believe that the purpose of our existence is acquiring physical fixes and material needs. They even glorify death and destruction as it feeds animalistic desires in the human psyche.
This is their religion. Capíce? Lying is completely fine as long as it serves their purpose. So if a Satanist tells you this is not the case, he is lying because he does not want you to know that it is the case.
I will not try to post a multitude of links to support my case, as I want this to be concise and you have a keyboard and google and the mental capacities to research this by yourself.
I will only post a handful of videos to get you started.
This one
is short and should do fine for this purpose.
.
Like other religions this one comes with rituals and symbolism. They perform ritual sacrifices and have been using these rituals to manipulate us. They use Magick from the Cabbala as they believe it helps them maintain control of the planet.
Not all people in positions of power are satanists, but a powerful faction is. This faction manages to put it´s agents and allies in key positions of banking, media, large corporations, education and the entertainment industry.
They already control almost all of the planets resources and human labor, but that is not enough. They want complete control over everything. Right now their status as the ruling elite is still being challenged every day. They don´t want that.
They don´t want people like me writing articles like this. They don´t want millions of people working to expose them because it makes their life more difficult. They want to get rid of us.
At present they can´t because there are too many of us and not enough people would willingly and knowingly partake in a fascist coup against us. We still have means to protect ourselves and they still have to operate under the illusion of being benevolent.
So they have a plan, a well organized plan that is now close to reaching it´s final stages of implementation. If you don´t believe they are satanists, then at least read about "real politics" a policy of looking at the world like a game of risk, where it is not feasible to consider humans as sentient beings that you need to worry about as individuals.
Evil is a word most people don´t like to use, including me. However, if I were to define it, I´d say it is a complete lack of empathy, bordering on the conscious appreciation of the suffering of others, without any moral incentive. Meaning that many people might want to see someone who killed their child suffer, but simply wanting to inflict harm on people who have done you no harm is evil. This evil exists and it persists in our society.
Just listen to the viciousness in the voice of the soldiers murdering innocent people in the video that Wikileaks released, that shows them killing the Reuters reporters and two children in the process.
Just listen to the madness in his laughter and how much he enjoys this sadistic, brutal and cowardly violence against unarmed and outnumbered civilians.
This is evil. There is no other word for it. And these are just some brainwashed soldiers. Imagine how evil it is to order a war against a country simply to increase your power. An entire nation, plunged into chaos and grief. Here is one example of the grief knowingly caused by these people:
I will shield you from posting some of the disgusting images and videos of screaming children who have been burned and bloodied by bombs. If you really think that this is just a sad consequence of necessary actions to protect society against evil terrorists and tyrants, congratulations. You are the successful product of sophisticated brainwashing.
These people each have enough money to feed and house entire cities of impoverished people. Together they could easily feed the world. The control system in place makes sure that despite all the riches on this planet, all the empty houses and all the available food, they must remain starving and homeless.
Now, make no mistake. If they could control the world with an iron fist. They would. The reason they don´t is not because they would feel sorry for all the people they would have to kill and hurt. It does not enter their realm of conscience. But there must be a reason.
So. What is the reason? Why aren´t we living under a totalitarian one world dictatorship where people like me are dead or in prison?
There is one major reason. A global takeover can not happen without the takeover of USA. The only obstacle to a fascist takeover of the US at present is the fact that the US is infested with guns. Think about it. How would they go about rounding up all dissenters and putting them into concentration camps or killing them without exposing themselves as douchebags? Even the most brainwashed people out there would realize what was going on, and since most people are ultimately of good nature, they would rise up to fight against it.
Also, this would mean that a large faction of the military would break ranks and join the resistance. But without an armed resistance, the good guys in the military would have no refuge and would simply be shot, just like in WW2, or be forced to follow their orders.
The elite knows this and now their primary focus is to remove this last obstacle to global tyranny. When they have, they will start a major war. This will lead to massive protests that will be dealt with brutally. People will try to rise up and overthrow the government but without the possibility for armed resistance they will be paralyzed. At present there are thousands of citizen militias all across the US and plenty of weapons to arm civilians with to fight the war of human independence.
I am well aware that what I am saying makes many people think that I am a gun toting conspiracy nut. This is far from the truth. I am much more of a hippy. I come from Iceland where the police don´t even carry guns. I have never even handled a real gun. Literally, never. I hate guns and I abhorre the violence they represent. But I am not stupid. I will not accept a situation where the only people who have them are either criminals on the street or the criminals in charge of the banking systems.
Problem - Reaction - Solution
Understanding this is the first step. Now we need to understand how they intend to accomplish this. They do this using the same technique they always use. Invent a problem. Produce a reaction through the media. Make people demand a solution that produces the desired result.
In this scenario the problem is gun violence. The reaction produced by the media is to blame the gun violence on gun ownership and those who want to protect the 2nd amendment. The solution that the public will demand the confiscation of guns in the US.
Since gun violence has long since been a problem in the US, this alone will not suffice. They need to produce a series of highly publicized events to traumatize and shock the American public and create the impression of such an urgent problem that "something must be done". That something, they will suggest, is to restrict gun ownership in the US.
2nd, they must get the public to believe that those opposing these new legislations are crazy conspiracy nuts, who are themselves potentially dangerous.

The first part has been accomplished by black operations where innocent people are massacred and blame is placed on lone nuts. These are carried out primarily but not exclusively in America, as this stunt requires global support. It appears that all of these high profile shootings lately were orchestrated by the same entities that carried out 9/11 in New York, 7/7 in London and 3/11 in Madrid, just to name the biggest false flag terrorist attacks.
The shooting of Arizona senator Gabrielle Griffins, Aurora theater shootings, Virginia Tech, Utoya murders and the most recent Sandy Hook atrocities, all of the stories surrounding these events have major flaws in them. The last of which appear not to have happened at all.

Sparing you the details, just consider this video and compare the reaction of all these people to the reaction of the woman of the Iraqi women in the video above. Which one is more genuine? Which one looks more authentic? Not a single tear is shed by any of these people who supposedly experienced the most shocking experience anyone could imagine. Having their child or family member pointlessly massacred with an assault weapon. Many of them are joking around and smiling. Others are simply giving an embarrassingly bad acting performance.





Now, am I saying that people never snap and go on killing? No, but that would be the exception rather than the rule. The major ones that have received the most attention have all had a consistent level of unanswered questions and cover ups surrounding them.

All of these events are riddled with contradictions. I won´t go into details of each one, you have an internet connection and critical thinking, there is plenty of material available online that exposes these flaws. My goal in this article is to give you an idea about the bigger picture when it comes to the purpose of this conspiracy.
The second part of the plot is to portray those who oppose these measures as crazy and unpredictable:


Enter Alex Jones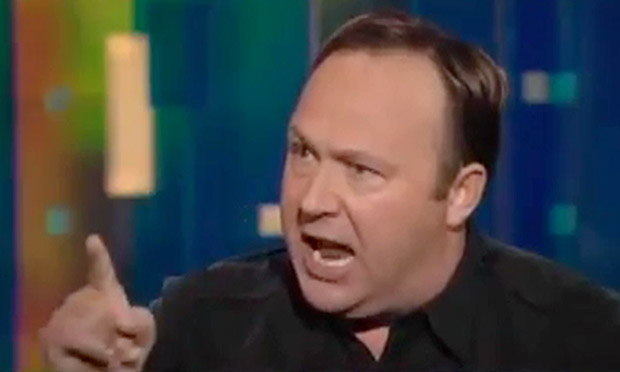 Alex has just been dubbed the "
king of conspiracy
" by CNN.
A few days ago he went on CNN to "debate" Piers Morgan about gun control. This was a carefully scripted propaganda stunt that is part of the theater that is meant to lead to legislation that will effectively abolish the 2nd amendment in the US. Alex Jones has recently been outed as a CIA operative. I wrote an article on this subject before his appearance on Piers Morgan titled
"The biggest conspiracy no-one will notice.
"
Please read the article
and spread it as it contains a lot of information relevant to the big picture.
This information is highly sensitive and is being actively suppressed online, all mention of it is deleted from infowars, as it would collapse this plot. Two days ago my facebook account was locked, I don´t know if it had anything to do with this but it was still a bit spooky.
I have yet to receive any further explanations from facebook despite trying my best to contact them.
His purpose is to lead the resistance movement in the US into a dangerous path meant to justify the tyranny he claims to fight against.
So, his job is basically to accurately state the real goal of these staged attacks, which is what he has been doing. But to do it in a way that presents those who are on to the agenda as crazy and irrational, and to lead those people into dangerous territories. This would include starting an armed rebellion against the government before such actions were an option of last resort. This would result in Martial Law where anyone who has registered at his website or affiliated with his work would be legitimate targets of the military in the eyes of the public.
If however they manage to disarm the American public without resistance, the next phase of the plan is to stage a false flag event where nuclear or chemical weapons would be used to provide justification for a war with Iran and Syria. All protest against these wars would be suppressed with brutal force, and if necessary martial law. This can not happen until the American people have been sufficiently disarmed.
Alex Jones is working for Stratfor. This is a private intelligence company that was founded in Austin Texas 1996. Coincidentally enough, Alex started his radio show in Austin Texas 1996. This connection is covered and exposed extensively in my article about Alex, as is the nature of his role as a disinformation agent.
One of the primary purpose of Alex is to identify dissenters and activists that they would need to target if this scenario unfolds. If it does than the future of humanity looks very bleak indeed. Like George Orwell said shortly before he dies, imagine a boot stamping on a human face, forever.
This technocratic global dictatorship would be even more brutal and sophisticated than the one depicted in his legendary novel, 1984.
Again, I am not trying to fear monger here. That is Alex Jones's job. We are very close to exposing this plan and all we need to do is to muster up the courage to spread this information. We still have ample time to do so.
Our primary focus must be to expose Alex Jones and his role as a CIA operative. The implications of which, if understoud thoroughly by the general public might result in the massive awakening we have long since dreamed of.
We must flood the Alex Jones website with questions about Molly Maroney, Stratfor and Trapwire, and post this information everywhere. I am calling out anyone with a conscience. Literally, I am pleading with you. Please appreciate the seriousness of this.
Many people I know have at some point in their life researched these conspiracies. They know this but had to stop being involved in them because of the psychological and social consequences of it. These people have understandably been shocked by the information they discovered and simply, and understandably thought that the disgusting and frustrating information they have come across during their research, was not worth affecting their lives negatively.
If you are one of these people I reserve no judgement for you, but if there was ever a time for you to come back to this, it is now. We need you. The future generations need you. Find the strength within. You are not a coward. You know this. You are not a slave. You know this! You are not evil and selfish. You are not powerless!
You know this!
You will not be forced into submission. You would rather die! Think of all that is good and beautiful in this world. It is worth fighting for! Think of all the injustice. All the people being starved to death on this planet of wonder and abundance! Think of all the people who have been bullying the human population. Are you going to stand back and just let them walk over us?! Do you really not feel it within, that we must stand up and resist the depravity and degradation of our civilization? Do you sense the urgency?

What if this comes true and you live out the rest of your life knowing that you did nothing to prevent this from happening? Knowing that deep down you knew this was the plan but didn´t resist it because you wanted to stay in your bubble of temporarily comfortable existence? Can you imagine what that would feel like? Looking at the world and thinking back to all the days you could have used to do something about this. Can you imagine the level of regret you would feel?

It is not too late to step up! Most of you know by know that 9/11 was an inside job.

Most of the people listening to Alex Jones know that. They have already shown the capacity to make that paradigm shift and they have the capacity to make this next leap.

Realize that the chain reaction from exposing him thoroughly and publicly, to the point where no-one will continue to take him seriously can be a turning point that will cause a chain reaction that will stop these events from unfolding. This is our biggest opportunity. This man is our enemy.

However. And this is a point that is important. While you do this it is important that you realize that Alex, like many of the people who serve the agenda of the globalists, is also a victim.

It occurred to me as I was watching one of the videos I posted. I posted it as evidence of how he portrays himself, and by association his followers, as people in a volatile psychological condition. In this video he clearly tries to call out for help. There is no other way to interpret what he says. He admits that he is working for the bad guys but he does it in a way that they might not notice. He is hoping you do.

We are actually doing this to SAVE HIM, Once you look at this video you will understand why.

And thinking about it, in retrospect it is quite obvious. If he was in fact one of the "evil" people that control the worlds resources, do you really think he would be spending all of his days on the radio shouting at people? Going out on the streets yelling into a bullhorn? Making documentaries? It is a lot of work. If he was a member of the privileged elite he would be chilling in a yacht somewhere. Or in his mansion. Why would he bother to do all this dirty boring work?

The same can be said about Obama. Sure, they might enjoy a few privileges. But really? If you had all this power, would you really want to have to wake up early every day, be under all this pressure answering questions and doing speeches? Of course not.

They are victims. Even bigger victims than you and I. Here is the clip in question. Listen closely:



There can be no mistake. He is talking about himself. He asks you: "Do you know what it is like to gut up to this, and go out every day, and go past the peer pressure, and come out day one and say 9/11 was an inside job and lose most of the radio stations I was on?" He then proceeds to this hidden cry for help, a secret confession:

"Do you know what it´s like going to sleep every night, knowing that you work for a bunch of psychotic killers, and that you bastards are probably going to end up killing me one day? Do you know what it´s like knowing that you've ruined my life?!"

Chilling. Absolutely chilling. He says it, right there in plain English. Think it through. Put it into perspective. Now that it is proven that he is connected to Stratfor. He is working for a bunch of psychotic killers, and they are probably going to end up killing him some day. He is their slave. They´ve got him by the balls and he has no choice but to follow their orders.

He is not an idiot, he in fact plays his part to perfection. A brilliant actor being used for this devious purpose against his will.

Here he is in the interview with Piers Morgan that has gathered massive viral attention and has convinced a lot of people that those who support the 2nd amendment are annoying, irrational and potentially dangerous:





We must help him and expose the people behind this evil agenda. Yes it is evil. It is evil to bomb people. Old people, young children, beautiful women and men in the prime of their life, burned and shot. Especially when these people have done nothing to nobody. It is pure evil. There is no other word to describe it.

By exposing Alex you are doing him a favour as it is the only thing that might set him free. If they kill him in the aftermath it will only help to prove our point and if we make that clear they might not think it´s worth it.

One of the things you can do is to post this article. Share it on facebook, twitter, reddit. Post it on your blog or in a forum, you don´t need to reference it. I don´t care, I just want people to wake up and realize what is going on and what we need to do to stop it. This is our chance. Make sure people realize that even though a lot of what Alex says is true, he is being forced to play this part by the very same people he is supposedly fighting against.

We can do this. The good and the kind will conquer these inbred satanic monsters that are poisoning our brains and the planet. Failure is not an option! There can be no bigger responsibility for us right now. We must prioritize and put our personal ambitions on hold, as much as we are realistically capable of. Let this be the dawn of a new era on planet earth. An era where we live together in peace instead of constantly competing in this brutal capitalist nightmare.

And be sure, this article will be attacked, "debunked", ridiculed and suppressed. If you don´t like the way I wrote it but agree with much of the content, right your own version. Investigate the aspects of it you question independently. Don´t be afraid. We have the most powerful force in the universe on our side. I thank you for reading this to the end and hope you find it in your heart to do the right thing. The future depends on it.